These workshops assist employers in meeting the current federal and selected state regulations for National Certification of Crane Operators and include the CCO National Certification Written and Practical Exams.
The training curriculum is designed to prepare students to take the applicable CCO National Certification written exams and covers pre-operation inspection, controls, functions, stability, set-up, outriggers, leveling, cribbing, hazards, wire rope, load hooks, load handling, traveling, rotating, elevating and lowering loads, load placement, load rating charts used on the exam, load weight calculating, calculating lifting solutions and signaling/spotting.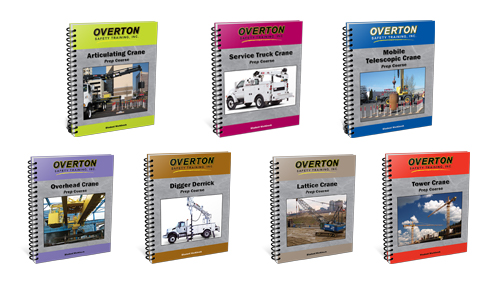 Preparatory Courses Include:
Student preparatory workbook
Practice written knowledge check quizzes
CCO National Certification written exams
CCO National Certification practical exams
Available Courses:
Articulating Crane (ABC, ABW, ABL) 2 day
Fixed Station Telescopic Boom Truck (Core, TSS) 3 day
Swing Station Mobile Crane (Core, TSS, TLL) 4-5 day
Tower Crane (TC) 3 day
Service Truck Crane (STC) 2-3 day
CCO CERTIFICATION PREP OPEN ENROLLMENT LOCATIONS AND SCHEDULE
We are happy to announce online registration for our National Certification courses.
Use the filters below to narrow down the class list by date, program, city, state, or distance.
NOTE: If you click on a class link and just see a yellow spinning wheel, it means the deadline for online registration for that class has passed.
You may still be able to register (with a small late fee) by contacting our CCO Coordinator, John Kirk, at (866) 531-0403 or by email at john@overtonsafety.com.